Our address in Black Rock City
For an event I'd spent half the last year preparing for, I managed to forget a lot of things. One of them, unfortunately, was a notebook, or any kind of pen and paper. So this year there's no Burning Man journal to share, only things I'm remembering after the fact.
Burning Man, once again, was mind-blowing. I love being part of something that big. Coming back to the "real" world hurt. If I could live in Black Rock City year-round, I'd jump at the chance. Well, the city that existed for the first half of the week, minus the yahoos. And with running water. :)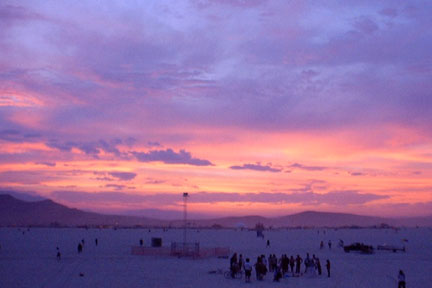 ...resulting in some fantastic sunsets
The cafe in Center Camp... hi Perlick!